Christmas time this year was extremely busy. Not only was it our first Christmas with Andley and Silas but we also had a death in the family, which resulted in a spur of the moment road trip to Tennessee and Mississippi. The passing of a loved one is always difficult but even more so near the holidays. Luckily, Andrew's papaw lived a great life before it was his time to part. As you may remember, Silas is named after his papaw so we will always have that to cherish. We feel so very blessed that we were able to make a trip over to see him in May so that he and Nana could meet Andley and Silas.
We were quite unsure how A & S would do on an 8 hour road trip, now that they don't sleep as much and are always on the go. We decided to drive overnight to avoid too much interruption in their routine, which worked wonderfully ((for A & S, at least)) as they slept the entire trip to and from Tennessee! Once we got there, we didn't have too much time to spend with everyone but we were able to see most of the family and spend some time with their Great-Nana.
We arrived back home on Christmas Eve, which we always celebrate with Andrew's niece, brother, and sister-in-law, but we were also able to spend it with his mom, step dad and dad this year. It's tradition that I make homemade chicken and dumplings and then everyone opens their gifts. This year we also baked cookies for Santa with our niece.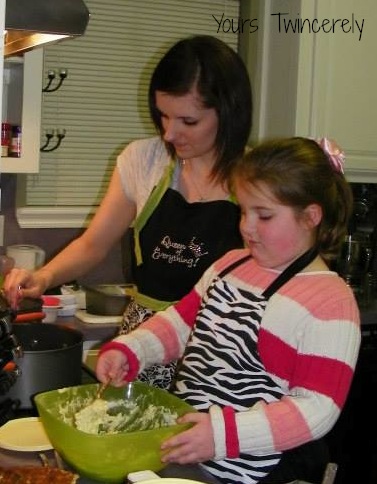 On Christmas morning, my parents, brother and Mimi came to our house for breakfast and gifts. You only think Christmas is fun before you have kids, the fun truly doesn't begin until you have little ones to enjoy it with! We are fully looking forward to the next several years when A & S start anticipating the arrival of Santa.
We were eager to go ahead and start some traditions with A & S, even if they are only 9 months old, so we read several Christmas books and used our North Pole Communicator they got as a gift from their Grandpa Joe throughout the month. We also have a Santa Visit, hosted by Andrew's family, at our house every year with family and close friends. It was really neat experiencing A & S's first Santa visit in our own home with their Uncle Joseph as Santa this year. The day after Christmas we took them to see a local Christmas light show, which they loved for all of 3 minutes. We intend to start the Elf on the Shelf tradition next year so we went ahead and got a boy and girl elf. Are two necessary? No, but when you have a coupon that makes the second one basically free then yes, two are necessary.
Traditions are very important to me, as they are ever lasting memories. The best thing about traditions is they don't have to cost a lot, they can be as simple as spending quality time with your loved ones, which is just as special as other traditions, if not more!
Christmas is my favorite time of year, I love all of the quality time spent with family and friends, all the festive decorations, and just overall joy and kindness that seems to overcome people! But this year topped all others, as we got to introduce A & S to all of the fun. A & S are such a blessing to us and everything is so much better getting to enjoy it with them!
Below are a couple of pictures of A & S with Santa for the first time.