Preparing for baby or babies?! Here is the ultimate list of items to pack for your L&D bag. I'm clearly an over packer and slightly high maintenance so take the list for what it's worth and omit and add to as you wish.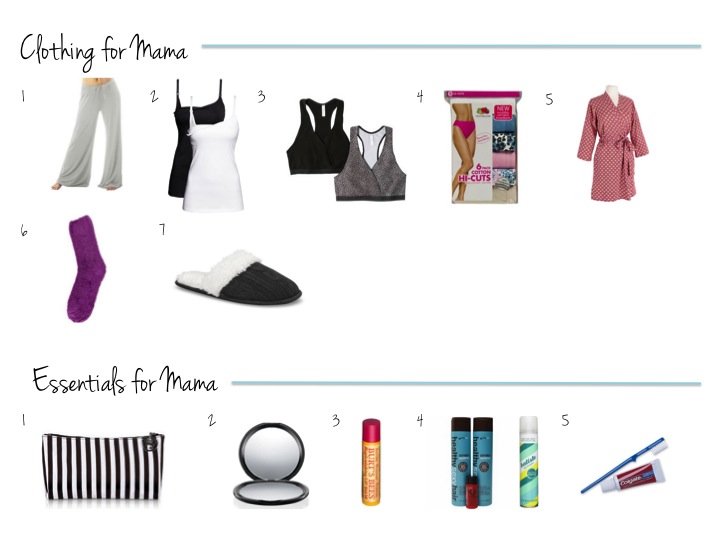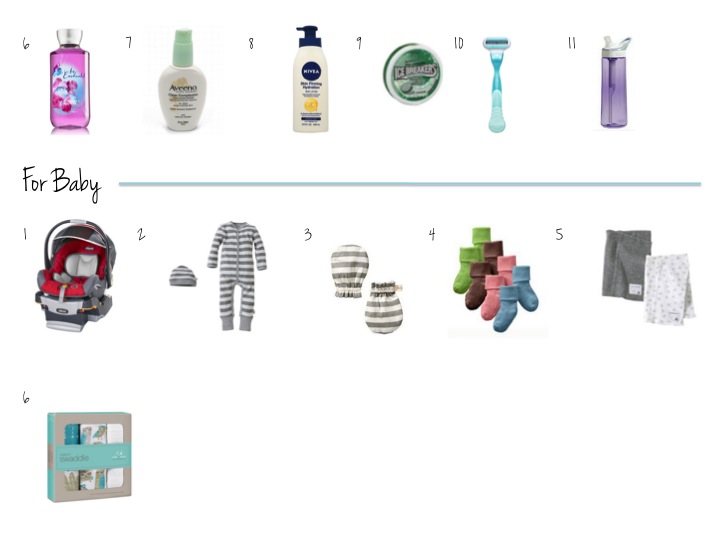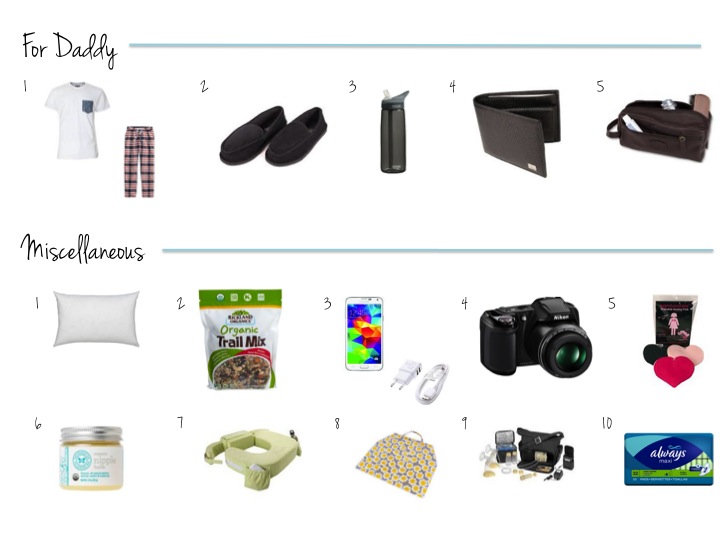 Clothing for Mama:
Comfy, loose, high waist pants. You'll want a great pair in order to be comfortable especially after a cesarean. Many women opt for button down sleep shirts instead, as they don't have to worry about where it lies on their incision but is still easy to access breasts etc. I prefer pants paired with...
Nursing tanks.
Nursing bras. The most comfortable option is the sleep bras but you may choose to pack and underwire one as well in case you just want to feel more you. If you're pumping, invest in a hands-free pump bra! They're soooo nice!
High waist/slightly oversized panties. The hospital will supply you with mesh panties that do the trick but sometimes it's nice to have a good pair of cotton panties on. Dark colors are best because let's just say you're going to bleed a lot... even if you end up with a cesarean.
Light weight robe. This is nice if you get a cold or simply want more coverage. I particularly liked mine for going back and forth to the NICU but my hope is that you won't experience that.
Non-slip socks. They keep your feet nice and warm and prevent falling from a medicine induced stupor.
Non-slip slippers. Same concept as the socks with a bit more protection, another great item for walking the halls, walking to the bathroom, NICU etc.
Essentials for Mama
Makeup bag with all make-up essentials & toiletries because sometimes you just want to feel a bit more you or a bit more glamorous than you feel without makeup. You'll also want deodorant, light body spray and q-tips. Don't forget glasses, contacts and contact solution if applicable.
Compact mirror to assist in applying the makeup and doing hair.
Chapstick. As silly as it may seem this is one of my top items. Hospitals are dry and you will be begging for some hydration.
Hair essentials. Shampoo & conditioner, preferably travel size, hair spray, brush, pony tails holders, bobby pins, headbands and dry shampoo. Dry shampoo will be a lifesaver if you're unable or just don't have the energy to wash your hair when needed. I also ended up sending my husband home for my hair dryer and flat iron, as I was in the hospital for 5 days.
Toothbrush and tooth paste.
Body wash.
Face wash & lotion.
Hydrating body lotion.
Mints. Your breath can never be too minty.
Razor. Might seem silly but I can't go a day without shaving my armpits, forget the legs.
Water bottle. You will need as much hydration as possible, especially if you're breastfeeding.
For Baby
Car seat. Make sure it's properly installed and you know how to use it prior to delivery.
Going home outfit, extra outfits and hats. All that's necessary is the going home outfit but if you're anything like me, I wanted to dress them while staying in the hospital so I had extra outfits. Make sure they're all laundered.
Mittens. Babies have sharp little nails and you don't want them scratching their sweet delicate skin. You likely won't be brave enough to trim their nails and the hospital staff won't do it.
Socks. Little feet get cold, keep those babies warm.
Burp cloths. Not necessary as you'll have plenty of cloths around but it's nice to have your own.
Blankets. Same as above.
For Daddy
Comfy clothes and pj's. Daddy wants to be comfortable as well.
House shoes or other comfy shoes. My husband prefers tennis shoes but many prefer something more cozy.
Water bottle. Like mama, daddy needs to stay hydrated and buying water from the vending machine gets pricy.
Wallet. You'll need to have both of your drivers license, insurance card, employer contact info, chosen pediatrician contact info etc. handy. It also helps to have cash if you order delivery or ask someone to pick up food or other items for you. Tip from my husband... have a few gift cards to your favorite eateries bought beforehand.
Toiletries.
Miscellaneous
Pillow. Hospital pillows just aren't the same as yours.
Healthy snacks. Sure there are vending machines but they're usually full of junk and/or are overpriced.
Phone & charger. You'll be using it to text, call, send pictures and you don't want to forget the charger at home! Make sure you have all important numbers entered.
Camera. Hello... this is a a BIG deal and you want to document the heck out of it, I promise! The pictures are priceless, even the absolutely unflattering ones. You'll cherish them forever and ever. Another tip from my husband... if you have a GoPro, strap that bad boy to your head and document even more! Unfortunately, we only recently invested in one.
Nursing pads. Another unnecessary item, as the hospital will supply them but sometimes you just want your own. I preferred the washable ones but used disposables in the hospital.
Nipple cream. Same as above.
Nursing pillow. There are plenty of pillows to use at the hospital but many women prefer an actual nursing pillow.
Nursing cover. If you're super modest, you'll definitely want to bring one. If not, set em' free.
Breast pump. I preferred to use the hospital grade one but if you already have one purchased it might be useful to go ahead and start with it. I thought I'd be able to put the babies to breast so I hadn't purchased one prior to delivery.
Pads. Another item the hospital will supply. Your choice.
Candy for the nurses. Our nurses really enjoyed this little treat and it was just a small token of appreciation for everything the did for us.
Bluetooth speaker. If you're a music lover and/or have a labor and delivery play list compiled you will definitely want a speaker.
Postpartum belly wrap. I had no idea about these until months after I delivered but apparently they are amazing! Do your research and find the best brand for you.
Tylenol. Many people choose to bring their own med's so they aren't charged a significant up-charge from the hospital.
Stool softener. Same as above. I never used stool softener with my cesarean but if you're having a natural birth it's highly recommended.
Most importantly, cherish these last moments being pregnant, enjoy yourself, your partner and your belly. Congratulations and much love, you've got this mama!